Date:
Tuesday, 27 October, 2020 - 07:10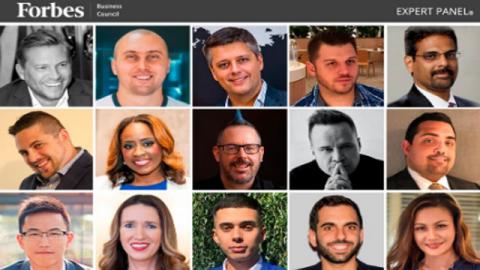 Entrepreneurship always carries a degree of risk, and it's even riskier during uncertain times. Whether you're facing industry-wide changes or a global economic downturn, outside factors can further complicate the process of starting a business.
Of course, it is possible for businesses to launch, grow and thrive in the face of uncertainty. However, this success is often a combination of luck, opportunity and careful consideration.
While you can't always control the first two factors, you can make informed predictions and decisions about your future business before jumping into entrepreneurship. Below, the members of Forbes Business Council share 15 questions you should consider before starting a business in uncertain times.
What's My Reason?
Are you starting a business for the right reason? Are you passionate about the business or just looking to get rich? If your only purpose is more money, you won't have the passion needed to survive the hard times when you can't pay yourself. Find a good company and get a good job! However, if you are passionate and truly believe in your mission and would work on it for free, then go for it! - Jonathan Holmes, LuxDeco

 Am I Ready For The Risk?
First, take a moment to ask yourself if you are truly ready to take on risk. In uncertain times, it's more important than ever to be prepared for any consequences. You may decide against starting a business in order to keep stress out of your family life or to make sure you don't lose your savings. If you are ready, more power to you as uncertainty may lead to growth opportunities! - Vasiliy Ivanov, KeepSolid

Forbes Business Council is the foremost growth and networking organization for business owners and leaders. Do I qualify?

Am I Focused On Profit Or People?
It depends on the business's purpose. Is it to make a profit or to serve people? In the digital age and in times of uncertainty especially, value delivered to the customers differentiates demanded brands from failures. A business will succeed and bond with its customers in the long term if it delivers according to the specific needs of customers and helps them in times of uncertainty. - Alex Kreger, UX Design Agency (UXDA)

What Do People Need Right Now?
This is often overlooked, not just during uncertain times but a lot of the time when people want to take a new idea or business to market. Entrepreneurs simply need to ask themselves what people are in desperate need of at the moment. What is currently on the market that needs improvement? - Deniz Doganay, Digital Debut

What Does Industry Supply And Demand Look Like Right Now?
In certain or uncertain times, there is always an opportunity to start a business. Identify the demand and supply situation. If the demand for certain commodities or services is high, then it's the right time to start the business. If there is less demand for certain goods or services but you have the knowledge or know-how on reducing the cost or increasing efficiency, then there is still an opportunity. - Ashok Krish, Kaizen Technologies, Inc

Will I Be Okay With Any Outcome?
Be okay with the outcome regardless of whether it's successful. As an entrepreneur, there will always be ups and downs, but you need to push yourself and continue to strive through all the downfalls and during trying times to make sure you come out on top with your business. - Steven Ridzyowski, Ridz Media LLC

Can My Business Still Thrive Post-Pandemic?
In these uncertain times, starting a business may seem overwhelming and dismal. One question that entrepreneurs should consider before starting a business is can your business thrive during and after the pandemic? Are you solving a problem? Will it help a lot of people? Entrepreneurs should use these questions as a permanent gauge for measuring the health of the business. - Anissa Jones, Total Health Chiropractic and Wellness Center

Do I Have A Niche Offering?
Do you have a niche product or service and are you an expert at it? Simple. If the answer is no to either of those questions, don't become an entrepreneur. If the answer is yes, then you have a business. Starting a business is all about passion. No passion and you have no business. Passion manifests itself in you becoming an expert in your field and from there you can sell it. - Chris J "Mohawk" Reed, Black Marketing

How Will I Put The World Back In Balance?
While brand strategy can get way too complicated at times, I believe two fundamental questions entrepreneurs should ask themselves before starting a business in uncertain times are, "How does your new company believe the world is out of balance?" and, "How will your company put it back in balance?" Former startup brands like Whole Foods and The Honest Co. asked these questions before they launched. - Kevin Ervin Kelley, Shook Kelley

How Long Can I Afford To Carry The Business?
Everyone has a plan until you get punched in the face. Businesses always start with unknown hiccups which will drain money from your balance sheet. Do you have the ability to weather this storm as you work to get your business on the right course? Everyone always thinks of the positive results; I always say plan for the worst. - Robert Depalo, National Financial Network

Who Am I Serving?
The economic landscape can shift all the time and new problems will exist due to those shifts. Your job as an entrepreneur is to solve problems and your solution becomes the answer. If you can't identify who it is that you are serving, then it doesn't matter how great your solution is if it's just not catered to the right demographic. - Wilson K Lee, Profitable Restaurant Owner Academy

What Is My Motivation And Why Is That Important For Me?
"Why do I truly want to start a business?" should be the first question to ask. If you are motivated by money and lack the true passion for what you wish to pursue, your initial enthusiasm will dissipate fast. Once you find the first answer, ask, "Why is that important for me?" to get to the root cause. If the answer is inspiring, you are on the right path. - Andreea Vanacker, SPARKX5

What Value Will My Business Bring To Society Right Now?
Starting a business in times where there is uncertainty is an even greater challenge than usual. The audience may be focused on other priorities. Therefore, asking what value the business will bring to people at that time is the most appropriate way to ensure that it can truly scale up in the midst of a crisis. - Kevin Leyes, Leyes Media

Can My Business Provide A Needed Escape For People?
In uncertain times, people are uncertain about their lives and want to escape. Providing happiness isn't enough. You should ask yourself whether your product will provide an escape. When a product helps people leave reality for just a little bit, they will never give that up. We're really happy that our bongs help people relax, so I don't see us going anywhere! - Harrison Baum, Daily High Club

Do I Have The Right Team To Solve A Real, Unique Problem?
It's encouraging to start a business when you think about the freedom of being your own boss or vice versa, but you need to consider a few things. First, do you have the right team? Second, does your business idea solve real problems? Last, have you identified a unique opportunity that others don't see? This pandemic really is an opportunity for us to learn how to manage risk and to be creative. - Abigail Aboitiz, 247 Health Solution LLC

The Word to HTML converter is the best free online tool to transform Word, Excel, Google docs, and any other document to web content.